YOU GUYS! SURPRISE! I've been planning on doing this little series ever since I got an email from Disney Destinations (yes, I'm a nerd) about Halloween time at Disney parks! GAH I so wish I could go to Disneyland during Halloween, it looks so fun! Unfortunately this is one of the drawbacks of working retail, you almost never get time off unless you're management cuz then you get paid time off. Argh! Anyway, here's the link of the page that gave me this inspiration:
EVILLL!!
From there I researched who exactly is a "villain" and I compiled a little list of Disney Villains that I could get inspiration from. First villain up is one of my favorites! Captain James Hook from Peter Pan. Something that really irks me about the Disney Capt. Hook; he's portrayed as very comical, and in the book, he's much more sinister and, like a pirate should be, cut-throat. Jason Isaacs' Capt. Hook is much more accurate. Plus I love Jason Isaacs, he is the best villain ever in every movie I've seen him in! I also love Dustin Hoffman's Capt. Hook, mainly because it doesn't feel like Dustin Hoffman when you're watching the movie, it feels like Hook! He did such an amazing job! The following are pictures that I used for inspiration:
Disney's Capt. Hook:
Jason Isaacs as Capt. Hook: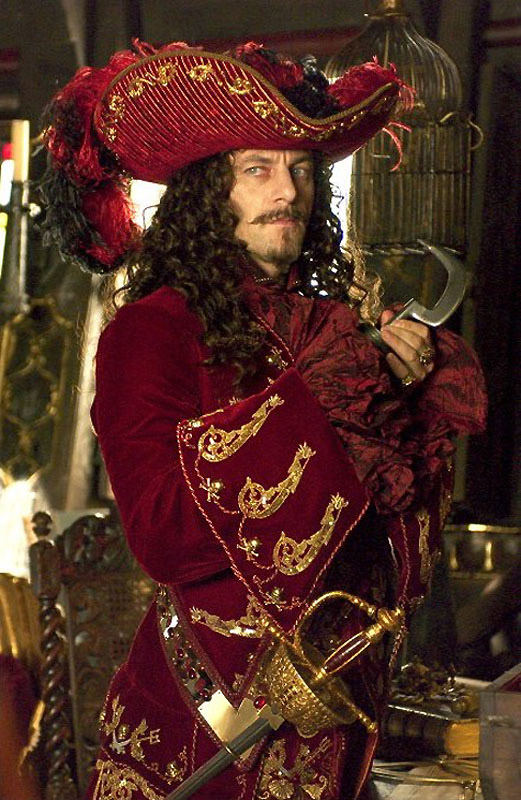 Dustin Hoffman as Capt. Hook:
Obviously, a lot of red and gold going on here. I took pieces from each image to come up with my look.
Products used:
I really wanted to mimic Dustin Hoffman's eyebrows as Hook but I don't have spare hair lying around and trying to create the wild, curly brow hair just wasn't working with the pencil. So dark brows it is. I always like darker brows on myself, but I don't think I could pull it off in real life because then they'd be too dark. I also tried to get the bottom liner to look like the dark bags that Disney Hook has under his eyes without actually making it look like I have dark bags :)
I'm rubbish at putting lashes on myself, plus this was just for fun, so don't judge my lack of lash application skills! LOL
So I incorporated all the predominant colors, red and gold, and I really wanted to make it rich and smoky, so I added burgundy too. I also wanted to incorporate purple since it's part of Disney Hook's outfit.
Inner corner (top and bottom): True Gold. Inner lid: Passion. Outer lid: Here Kitty. Crease: Coco Cherry Truffle. Highlight: Queen Phyllis Matte. Top liner: Berry Flambe (wet). Bottom liner: Plum Big & Bright eyeliner with Berry Flambe on top (dry). Brows: Black Coffee Big & Bright eyeliner.
For fun, cuz I'm a big dork.
Cheeks: BE Flowers. Lips: Some sort of BE lipstick concoction I made.
If I were cool and had a bunch of costumes and wigs and stuff, I'd go the whole nine yards with this look, but seeing as I don't, please feel free to use your imagination :)
There's one villain down! Yay! What do you think of this?
Thanks for looking/commenting!